Continental Solution™ is a company based in China region that are specializing in industrial manufacturing and trading in exporting markets. We have strong local manufacturing network and with our own manufacturing facilities in WUXI, Jiangsu Province, we are committed to work with our clients to develop and manufacture products in China within required quality and standards and deliver cost effective results.
Total Manufacturing Process
We offer one stop manufacturing solution, that comprises material, fabrication and surface treatment, also assembling components into one package.
Flexibility in Manufacturing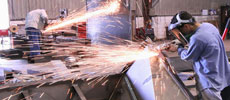 We are flexible to make products with specific design and special requirement, and we deliver customized manufacturing to your needs.